ORA PILATES
COLOGNE
Pilates for EVERY BODY
Ora Pilates Studio in Köln
 Pilates for EVERY BODY
ORA PILATES COLOGNE
Discover your Innermost Power through Pilates Personal Training
Together we will achieve your individual goals. You can also look forward to the following results:
Alleviate or completely eliminate pain

Relieve tension in the shoulders and neck area and other symptoms typical of an office job

Being able to feel and control the deeper abdominal muscles again and thus a stronger pelvic floor - very important for everyone regardless of gender

Increase your mobility without the risk of injury, because in Pilates we usually don't move to the limit of our range of motion

And on top of that: lasting results, an upright posture, an improved perception of your own body and a better relationship with it, more calm and resilience, more energy, an overall increased quality of life and...
PRICING
Enjoy the advantages of a training session just as special and individual as YOU are. Tailored to your goals and needs.
You can train with me from less than 86€ per hour.
PHILOSOPHY
Forget about the typical Pilates Body cliché, which sets specific standards of appearance.
Just come as you are and do Pilates. This way you'll have a Pilates body right away: it's that simple!
ONLINE CLASS
At the studio I exclusively offer personal training for individuals and pairs. Additionally, I also have a LIVE online group class.
Fully flexible and convenient, every Monday at 5 p.m., suitable for all levels. This class is currently only taught in German.
Learn more about Pilates and ORA in less than 90 seconds
Welcome to ORA Pilates Studio, the first studio in Cologne specializing in Pilates Personal Training. Here you can train in a private atmosphere and, thanks to professional, compassionate support, you will achieve your goals effectively and sustainably.
Deep core activation, focus and control are only a few of the elements that make Pilates an effective full-body workout. With the Pilates Apparatus the training can be varied and adapted to any age, body shape and level of fitness.
During the training session you can immerse yourself completely in the present moment and focus on yourself; indeed, "ora" is the Italian word for "now".
If you are interested in pursuing conscious, effective and sustainable training, you have come to the right place and I look forward to your first session.
Welcome to the Here-and-Now, welcome to ORA.
Valeria Perrelli
Having studied and previously worked as an engineer, I gathered firsthand experience of the typical problems everyday office life brings along.
I came to Pilates during my time as a project manager and business consultant. I discovered this holistic training not only as an effective antidote to my work-related tension and pain, but also as a way to center myself and align body and mind.
I started my first Pilates Teacher Training in 2017 and found my calling through it. From engineering to Pilates: a radical change, one might think. But maybe the development is not so far-fetched. Moving to Pilates, I have simply shifted my focus from the mechanics of machines to the mechanics of the body. I have come to find the latter significantly more fascinating.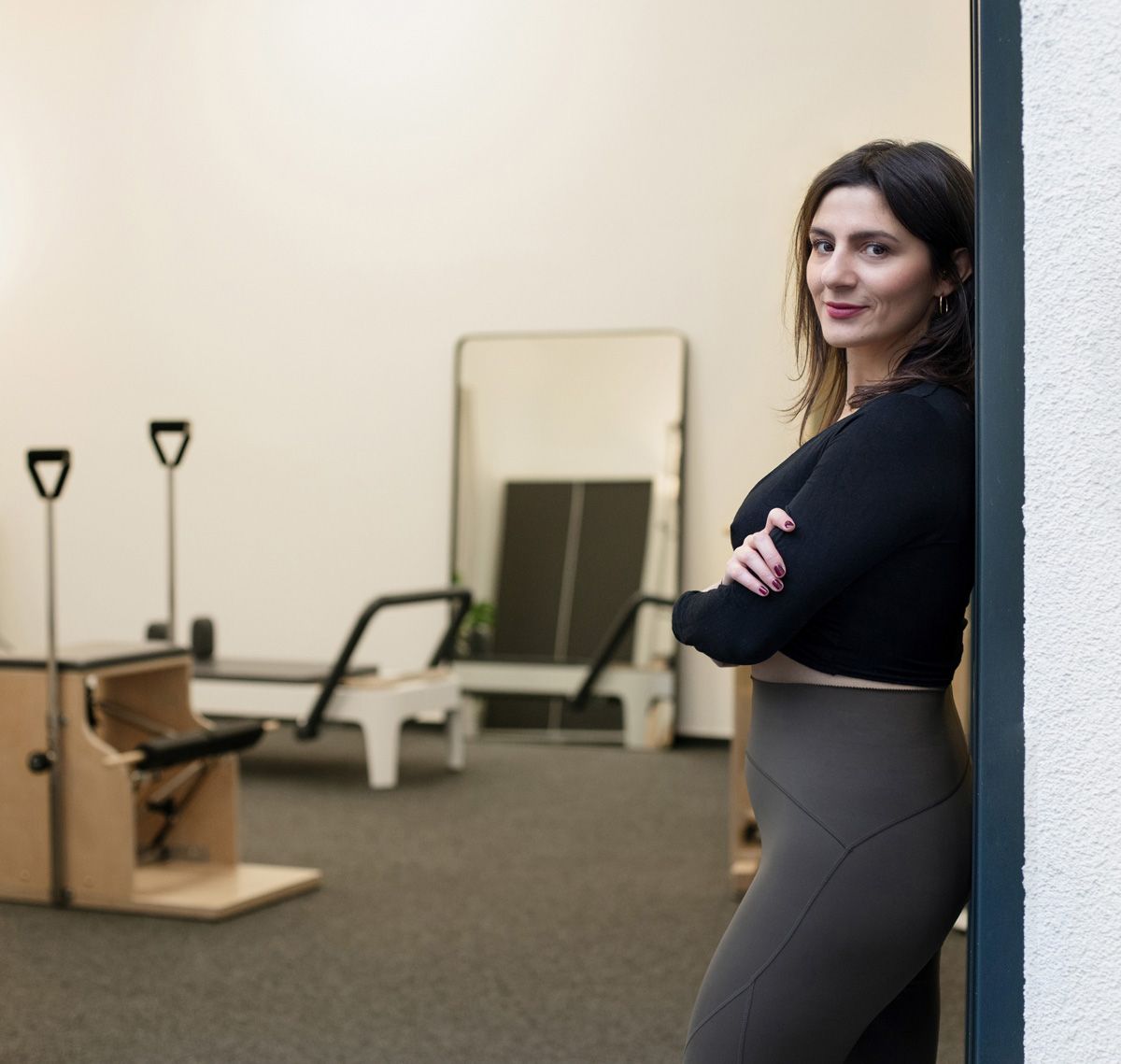 Right in the middle of downtown Cologne, just 100 meters away from Friesenplatz, my Boutique Studio for Personal Training on the Pilates Apparatus offers you an oasis in the heart of the city; a special place, where to train privately and under professional supervision. The following advantages await you:
Individual training in your preferred language: German, English or Italian. I also speak French, Spanish and Swedish.

Generous opening hours until late in the evening.

The space is completely reserved for you: your training will be far from the discomfort of crowded studios.

The minimalist style and the airy space with high walls give you the opportunity to focus only on yourself, your body and the training.

State-of-the-art new Pilates Equipment, including the popular Pilates Reformer (Allegro), as well as smaller props that make it possible to tailor each workout to your needs and goals.

During the warm-up lying on the Allegro you look at the (hopefully blue) sky.
Frequently Asked Questions
Ora Pilates Studio
Valeria Perrelli

Magnusstr. 18a
50672 Köln

0049 (0)152 578 812 82
This email address is being protected from spambots. You need JavaScript enabled to view it.